What Can I Negotiate On A Home Besides the Sale Price?
Posted by Andrew Satterlee on Friday, September 15, 2023 at 3:15 PM
By Andrew Satterlee / September 15, 2023
Comment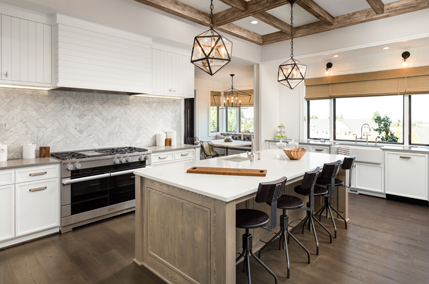 When you are buying a home, the most common area of negotiation is the listing price. In a hot, competitive market like Boise where homes receive multiple offers (many over the asking price), negotiating is done beyond the sticker price. Here are 5 places to negotiate aside from the listing price.
As usual, talk to your real estate agent about your negotiating options and what the best course of action is.
Home decor
Ask the sellers if there are any appliances, furniture, or fixtures that they are keeping or leaving. If you are fond of the washer and dryer combo, the chandelier in the dining room, or the fridge in the kitchen, ask if the sellers are willing to keep it in the house. You may pay a little more, but the sellers may be open to having to move less stuff. Plus, you won't have to pay for new appliances or move your current ones (helping repeat the cycle for buyers interested in your home). We had some buyers who loved the house but were willing to walk away from a deal if the sellers took the metal hose reel in the backyard. The sellers let them have it and the house went under contract within the week. You may be surprised by what the owners are willing to part with to help the deal close faster.
Home cleaning
Most closing contracts include conditions for basic cleaning when the sellers move out, but you may be able to negotiate for more than that. Additional services like deep cleaning or replacement of high-traffic carpet can save you hundreds of dollars. Replacing vinyl carpeting or refinishing hardwood floors may also be on the table for you to negotiate depending on their condition.
Home repairs
If a home inspection reveals parts of the home that need repairs, this is a powerful negotiating tool. Depending on the cost, severity, and urgency of the needed repairs, they may be willing to lower the selling price to help offset the cost or take care of it themselves. However, don't try to negotiate over cosmetic improvements like wallpaper or crown molding color. Sellers won't budge on these. Cosmetics are things you can fix yourself after you purchase the house. Focus on electrical, foundational, roofing, or home system (sprinklers, HVAC) issues. These are important to the health and safety of the house and those who live in it.
Closing costs
Closing costs account for 2-5% of the final sale price and are usually split between the buyers and sellers. If you have some extra money in your budget, offer to cover some of the seller's closing costs. By doing this, the sellers keep a little more money in their pockets. Who doesn't like to have some extra cash? You can propose to cover some closing costs when you submit your offer on the front end to help make your offer stand out as well. If your offer is accepted, you can then go into detail about which costs you are willing to cover.
Closing timeline
Sellers have always wanted to sell their homes in the shortest time possible. However, there is the possibility of negotiating the closing timeline. If you successfully negotiate some home repairs, the closing window may have to be extended out of necessity. This can be discussed with the sellers and between both party's agents. You may also be able to negotiate more time before you move in. Offering a rent-back agreement or setting a closing date with some leeway to help the sellers buy a new home and move out of their current one can improve your chances of getting your offer accepted. A little extra patience and generosity can go a long way.
Even in a tight market like the Boise area, there are ways that you can negotiate to help get the best deal and secure the winning bid. If you are ready to buy a house in the Boise metro area, contact a Build Idaho agent at 208.974.5613 to get started.