Dry Creek Ranch Subdivision
Boise,
Idaho
83714
Large homesites, open spaces, trail systems, a farm-to-table community, and a commitment to sustainability.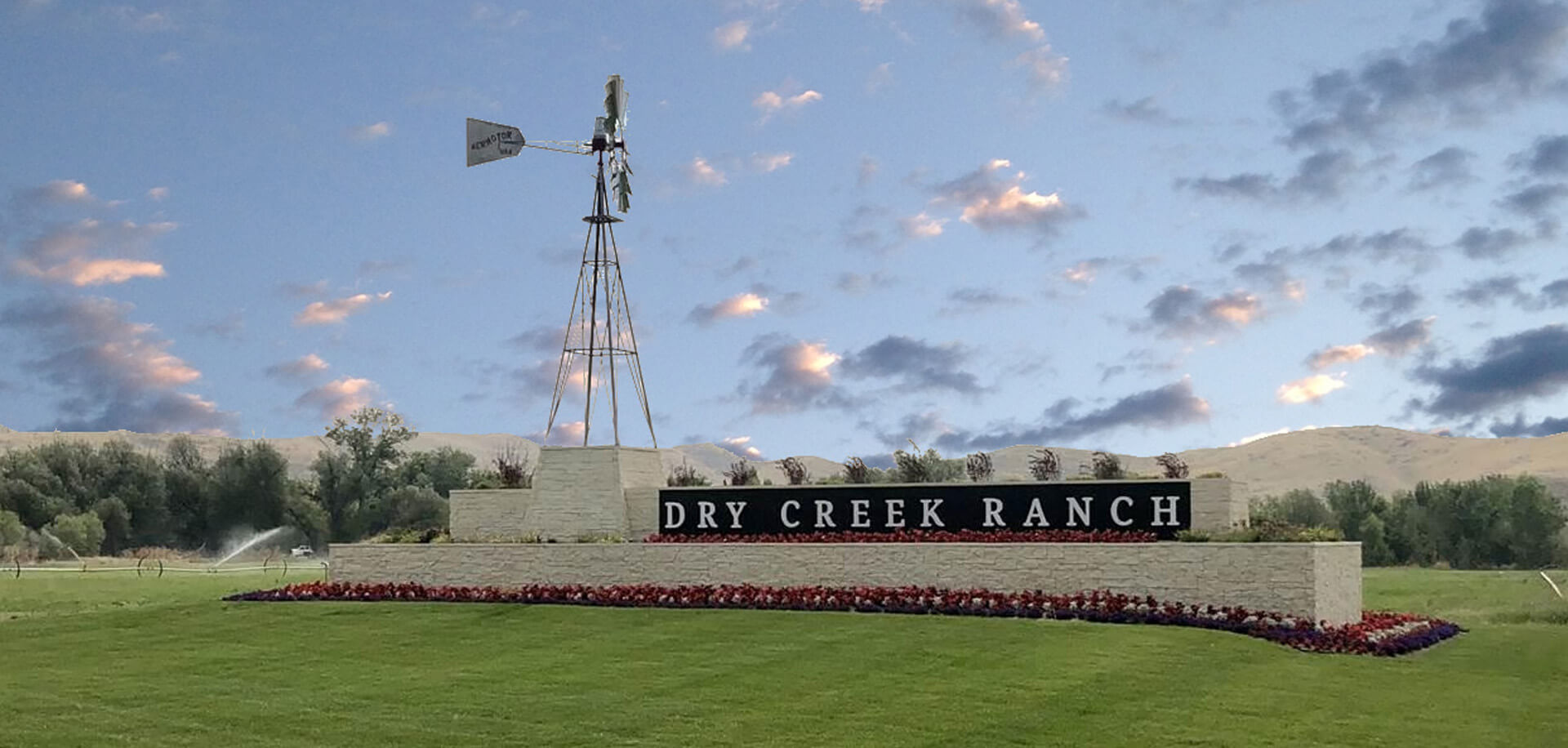 Set on 1,400 beautiful acres, Dry Creek Ranch features large homesites, open spaces, trail systems, a community farm, and a commitment to sustainability. This neighborhood embraces the values that many are seeking in a farm-to-table community. This subdivision offers custom and semi-custom homes priced from $500,000. This development started building new homes in 2019 by several of Boise's top home builders.
Check out the newest phase, The Estates at Dry Creek Ranch, offering 1-acre lots and homes started at $1.8M. View the plat map.
Plat Map: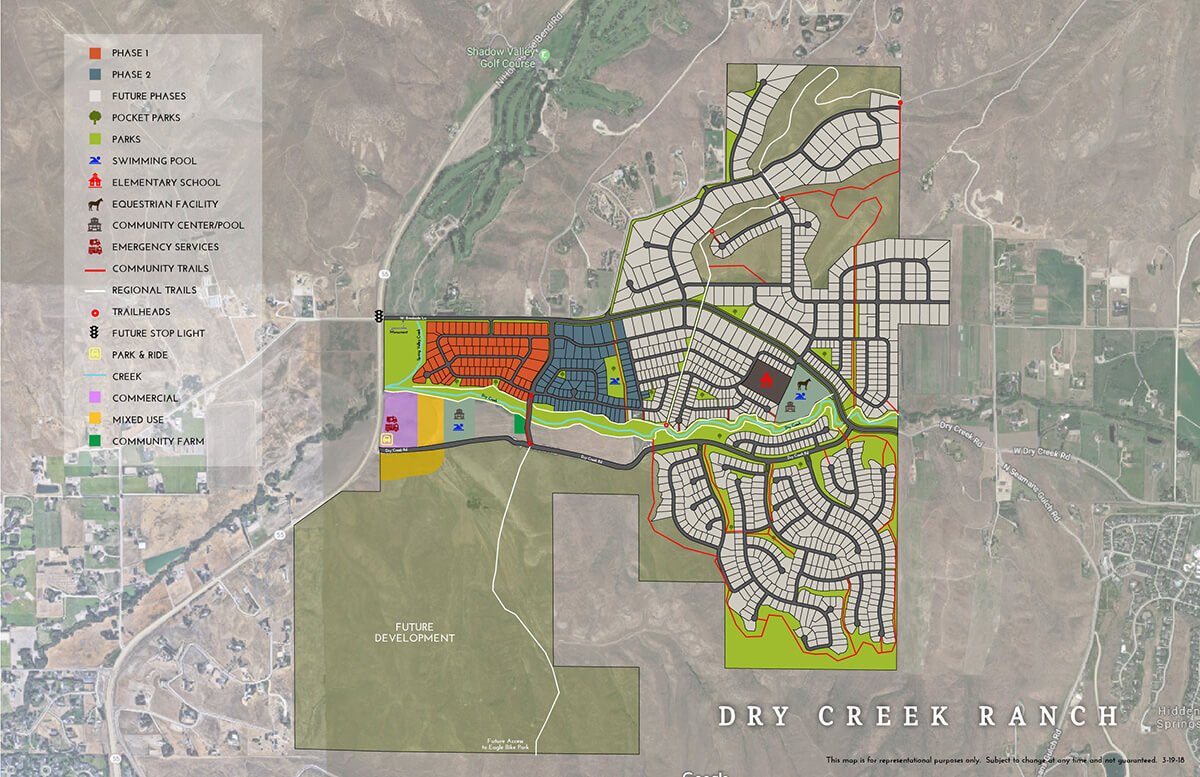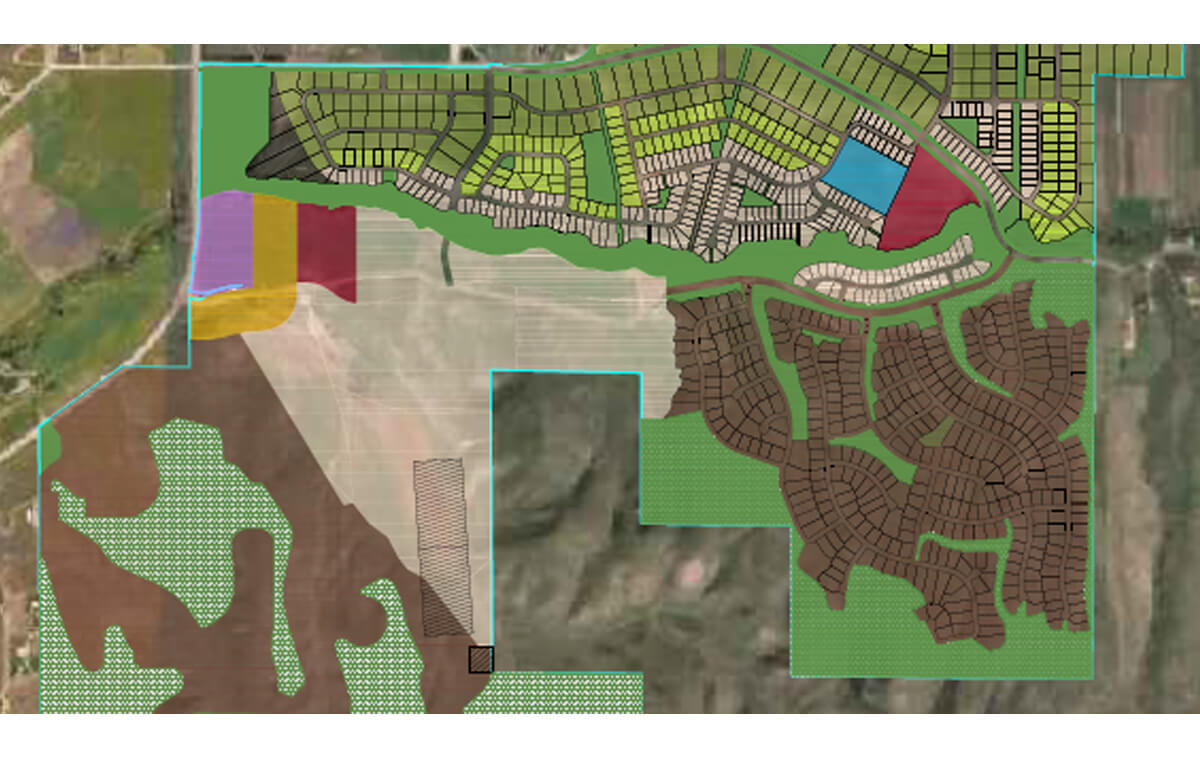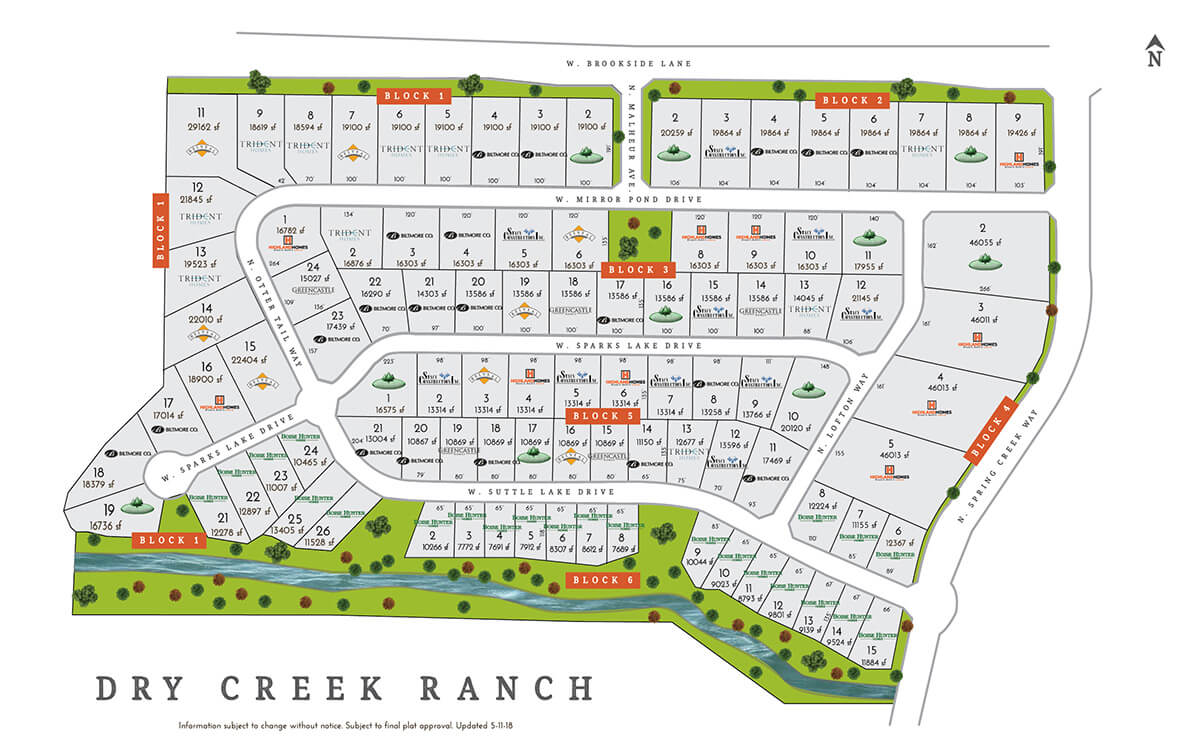 Click the image for a full-size plat map
The Hills at Dry Creek Ranch: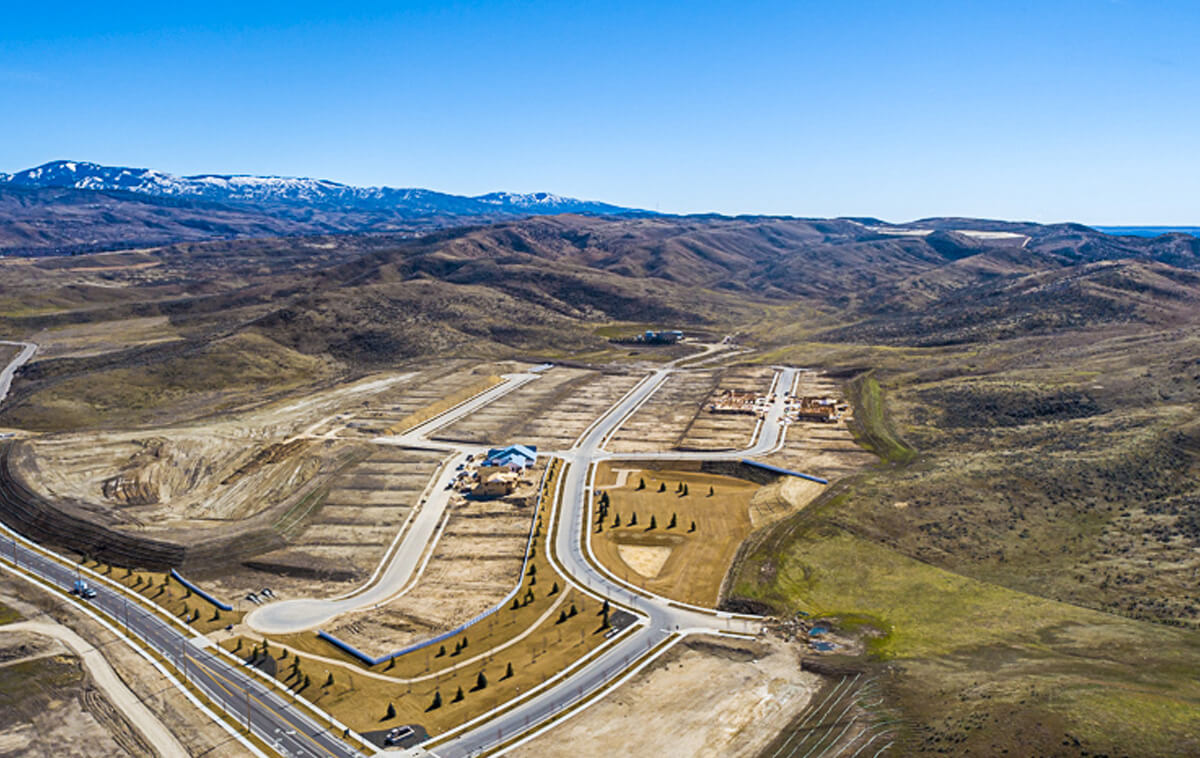 The Schick-Ostolasa Farmstead (sometimes known as the Dry Creek Ranch) sits within the rolling expanse of the foothills surrounding Boise, Idaho. Dry Creek Ranch includes an onsite farm, allowing residents to enjoy weekly produce delivered to their door. The farm is managed full-time by an experienced farm manager. Natural growing methods are used for seeding, growing, and harvesting.
Who is the Developer?
Boise Hunter Homes developed this community with the first homes built in 2018.
How many homesites are there in Dry Creek Ranch Subdivision?
There are 1,821 building lots with an average lot size of 0.34 acres. There will also be Estate Lots that will range from ½ acre to 1 acre for luxury custom homes. Check out the newest phase: The Hills at Dry Creek Ranch.
West Ada School District
Eagle Hills Elementary
Eagle Middle
Eagle High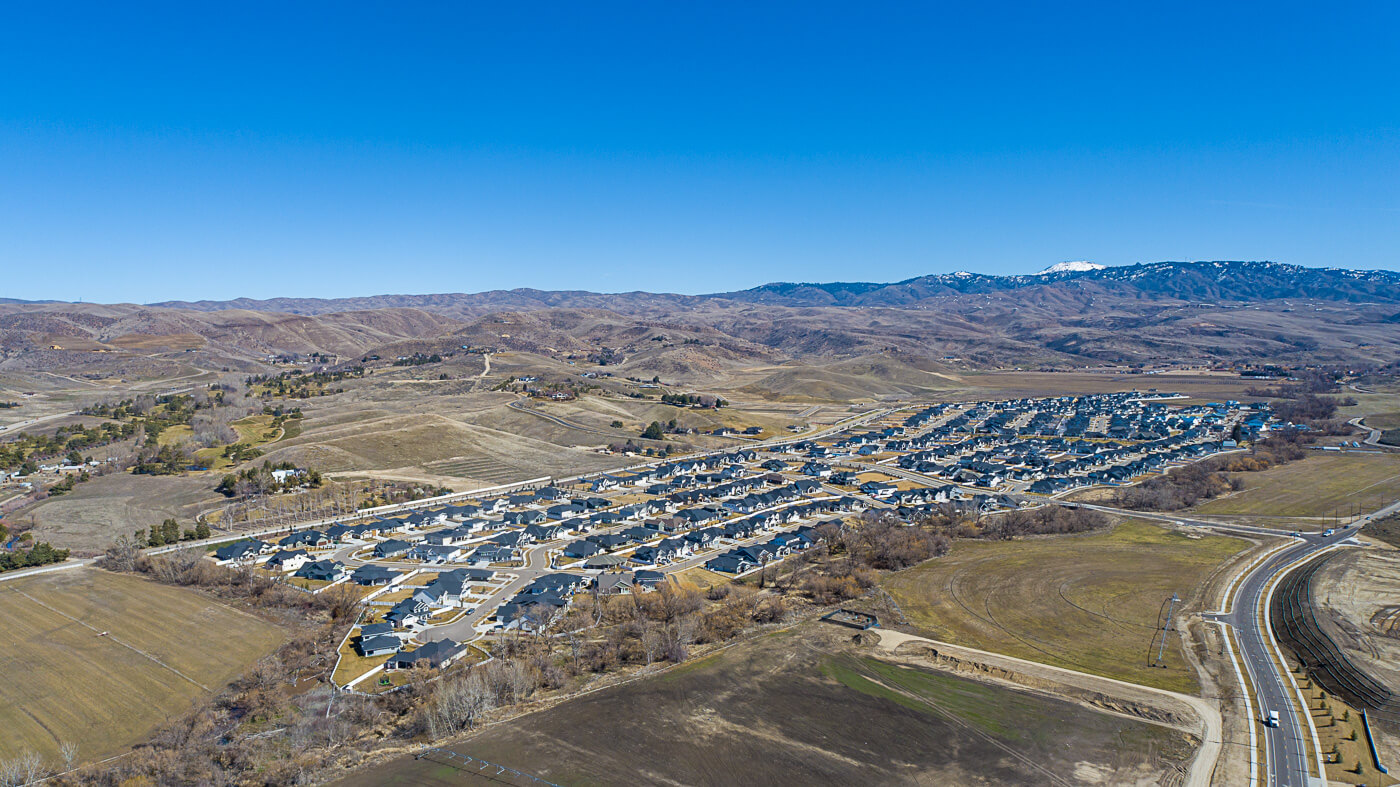 Where is Dry Creek Ranch?
East of Highway 55 near Dry Creek, about 4 miles north of State St.
Hidden Springs is to the east
Shadow Valley Golf Course is to the north
Shadow Valley Estates is to the north, across Hwy 55
Dry Creek Ranch Map:
360° Community Tour:
New Home Pricing Guide
Average Sales Price
Total Sales
Average Price per SqFt
Price Range of Homes
2021
$811,757
67
$258.77
$472,926 to $1,820,000
2020
$660,258
85
$224.07
$468,228 to $1,128,050
2019
$578,062
48
$202.19
$451,500 to $1,019,802
*source Intermountain MLS
Homes for Sale at Dry Creek Ranch
Featured Dry Creek Ranch Subdivision Homes
December 6, 2023
$1,093,854
Med. List Price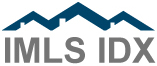 All listings featuring the IMLS IDX logo are provided courtesy of the Intermountain Multiple Listing Service, Copyright 2023.
IDX information is provided exclusively for consumers' personal, non-commercial use, and may not be used for any purpose other than to identify prospective properties consumers may be interested in purchasing. IMLS does not assume any liability for missing or inaccurate data. Information provided by IMLS is deemed reliable but not guaranteed. All listings provided by IMLS are marked with the official IMLS IDX logo.
THE HISTORY OF THE RANCHES IN THE "DRY CREEK RANCH" DEVELOPMENT AREA
When P.L. Schick and George Banker took out their homestead patent in the Dry Creek Valley of Idaho in 1863, they were the first to take advantage of the rich resources and strategic location of the valley. Others followed quickly. One of the most desirable areas for settling and cultivation was the site of the current development called Dry Creek Ranch, which historically was the site of two homesteads—the Rossi-Robie/Healy/Jeker Ranch, and the Kingsbury/Lemp/Gary/Jones Ranch.
Alexander Rossi, a German-French-Italian immigrant who trekked to California to Idaho in the early 1850s to make his fortune, met New York-born jack-of-all-trades Albert Robie (militia quartermaster, surveyor, Indian reservation manager) in the brand new town of Lewiston, which was founded in 1861 as a result of the discovery of gold on Orofino Creek in October 1860. Both men had come seeking new business opportunities and they saw that the need for lumber was their chance. They went into business together and built and operated a sawmill that provided wood for the houses, businesses, fences, corrals, and boats on the Snake and Clearwater Rivers.
The gold boom on the Orofino was short-lived, so when word came of a gold strike in the Boise Basin in late summer 1862, the two men relocated to the next boom town, Bannack City (now known as Idaho City). They quickly built another sawmill on the creek that would eventually bear Robie's name, and they also established an assay office in town to perform tests on gold dust and determine its purity for an accurate measure of its monetary worth. Bannack City was soon eclipsed by the new city of Boise a few miles to the southwest, and by 1865 Rossi and Robie moved their business there. Robie again built and operated an assay office—the first in the new city. They also built a sawmill on Shafer Creek, and improved what became the main road that ran from Boise, through the Dry Creek Valley, and northward to Horseshoe Bend and the mining towns around Placerville in the Boise Basin. This was the main road for traffic between Boise and the Basin, and for travelers heading to or from Oregon via the Payette River Valley.
Rossi and Robie also established one of the first homesteads in the Dry Creek Valley, about two miles west of Shick's where their Shafer Creek Road emerged from the northern hills into the Dry Creek Valley. On this property, they constructed a lumber yard where they could sell the product coming from their mill on Shafer Creek. They also established a second lumber yard in what is now downtown Boise, at 6th and Main Streets. The road used to carry lumber there ran southeast through the Dry Creek Valley. Robie moved his family onto the Dry Creek Ranch to oversee operations, while Rossi resided in Boise near the assay office. The Rossi Toll Road, most of which is today known as Cartwright Road, was one of the primary thoroughfares in this part of Idaho in the 1860s and 1870s. Because of Cartwright Road, Dry Creek was a well-known area to all the early residents of the Boise areas.
There was also a warm-water spring on their property, which would produce 75 inches continuously. Residents of the Dry Creek Valley knew that springs have a tendency to appear and disappear seasonally, but this one ran at least through 1902. This, in addition to the deep rich soil in the Dry Creek Valley, made it easy to raise rich crops of hay on the ranch, and the men made a fair amount of money renting out their pasturage to cattle owners.
In the 1880s one of Rossi's sawmill employees, Thomas Healy, purchased the Dry Creek Ranch, the Shafer Creek sawmill, and the toll road, which then became known as the Healy Toll Road. He operated the sawmill until around 1905, and continued to maintain and manage the toll road until 1909. Starting about 1910, Healy—now in his late 60s—partnered with his neighbor, D.E. Clemmens, to run both the Healy Ranch and Clemmens' Ranch, which covered roughly the area bordered today by Brookside Lane, Beacon Light Road, and Highway 55.
Just to the west of the Rossi-Robie homestead was the home of Thomas Kingsbury and his wife, Elizabeth. Their property comprised the area where Brookside Lane and Dry Creek Road intersect with Highway 55. Kingsbury was born in Ireland and immigrated to the "frontier" of Indiana as a young man, where he and Elizabeth met, married, and had five children. The Kingsbury family came west on the Overland Trail and homesteaded in Oregon for a time before returning east to settle on the Rossi-Robie homestead along Dry Creek in 1866 "on the lush valley floor at its widest point, where Spring Valley Creek enters Dry Creek." [Druss, Dry Creek Chronicles, p. 22] The Kingsburys had another four children while living on Dry Creek, where they grew wheat, barley, and potatoes, and managed small amounts of livestock— mostly dairy cattle. Later, they also had extensive orchards producing apples, prunes, and plums. Orchards were also popular in west Boise along what is now Orchard Street, as well as around Eagle Island (now the location of Eagle Island State Park). Learn more on the History of Eagle page.
Kingsbury survived a murder attempt by one of his employees in 1873 and continued to successfully run his ranch. In addition, he had a very profitable threshing business, hiring his services out to local farmers and ranchers. He also hauled lumber for his neighbors Rossi and Robie from their Shafer Creek mill to their lumberyard where the current Jeker Ranch buildings are located. Kingsbury was so successful that he expanded his freighting business to hauling supplies to the mines at Rocky Bar, near Atlanta in Elmore County. The miners there were also a ready market for the produce of Kingsbury's Dry Creek ranch, particularly his apples.
As business opportunities to the east gradually consumed more of Kingsbury's attention, he and his family finally left Dry Creek in 1884 after eighteen years of farming and relocated to the Wood River Valley and the town of Hailey (named for their Dry Creek neighbor, famous pioneer John Hailey). The ranch was purchased by John Lemp, who was already a prominent businessman in Boise and founder of the first (1864) and largest brewery in Boise, and owner of several saloons and other businesses. He had also served as the mayor of Boise in the 1870s. Lemp bought the Kingsbury place as an investment but never lived there. He sold it to John Gary in 1888.
John Gary was a well-known sheep rancher in the Boise area. He lived in Boise with his sister Ora, and ran several sheep ranches including the former Kingsbury property. After only two years, he sold the Dry Creek parcel to William Jones, another sheepman, who had come to Dry Creek from Montana in 1886 and who bought and combined several ranches at the mouth of the Dry Creek Valley into a sprawling sheep operation. This ranch was reputed to be one of the finest in Idaho—the lambing shed alone cost $3,000, the equivalent of about $80,000 in 2019 dollars.
Healy died in 1925. From that point, the property passed to Julius and Anna Jeker, immigrants from Switzerland, who bought the property in the early 1930s after 25 years of working as tenant farmers in the Warm Springs area of southeast Boise. After Julius' death in 1951, the ranch was taken over by his son, Julius Jr., who owned and worked it until his death in 2005.
In 2005 after Julius Jr.'s death, the land was sold to a development company, which gained approval from Ada County to build 3,500 residential units and 650,000 square feet of commercial space. In 2006, Boise Hunter Homes acquired the land and began the development and construction of the Dry Creek Ranch subdivision as it is known today. In order to honor its history, Dry Creek Ranch will have a park named after Julis and Anna Jeker.
Northwest Boise Subdivisions