Idaho Home Buyer Tools
The Ultimate Home Buying Resources.
Have you asked yourself if your current living situation is what you imagined for yourself and your family? Most people have never taken the time to imagine their ideal home, which is why they don't live there. You first have to imagine living there for it to come true.
It is important to detail out everything about your ideal home and living situation. Start with the location and how it makes you feel. Where does the sun come up? Who is in the home with you? Who comes over to visit and what do you do? Is the kitchen setup just that way you like it? All homes were first an idea and with clarity, it can come true!
Build Idaho is the most comprehensive real estate guide in Southern Idaho
We are experts in the area, and once we learn what it is that you're looking for, finding your dream home is simple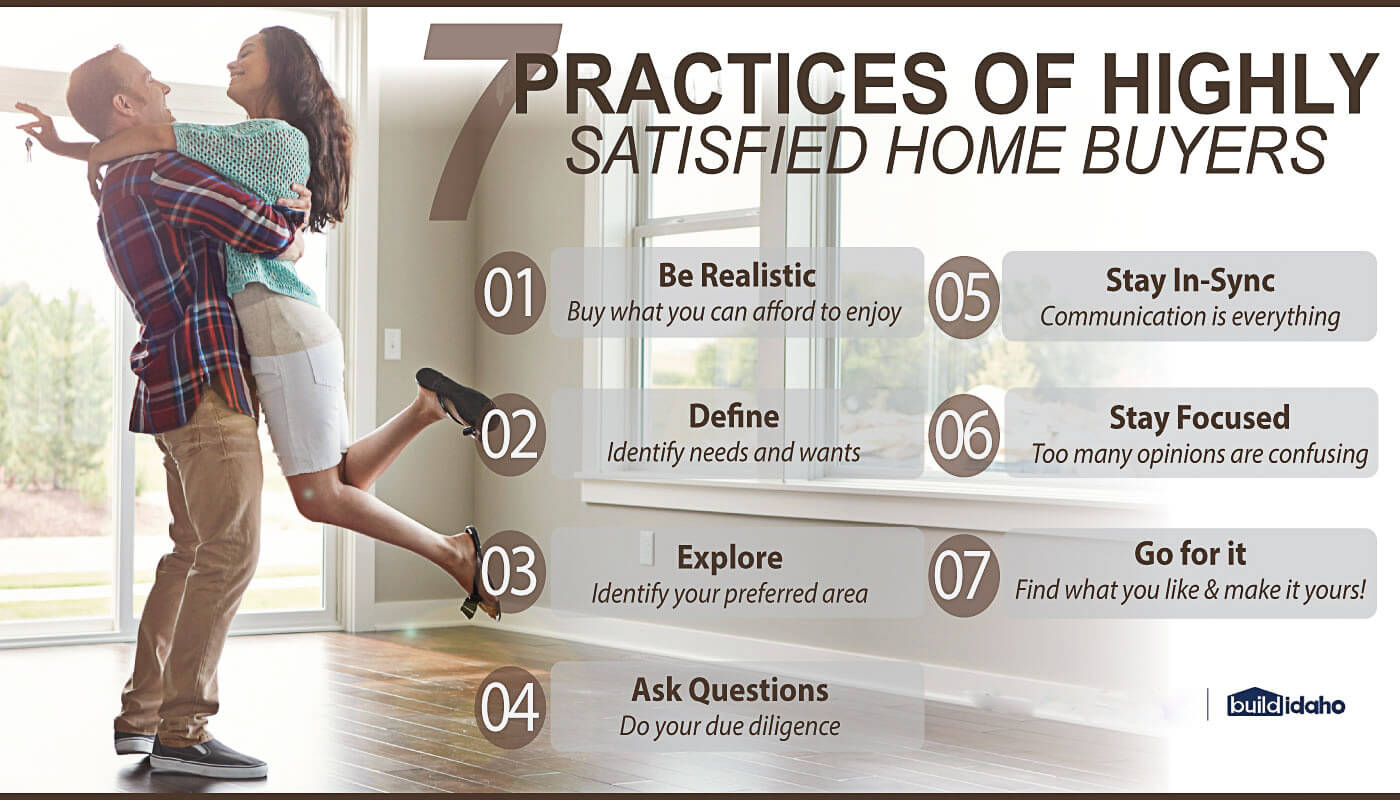 How to find a home in Idaho
Be Realistic
Buy what you can afford to enjoy.
Define Your Home Search
Identify your wants and needs.
Explore
Identify your preferred area.
Ask Questions
Do your due diligence.
Stay In-Sync with everyone involved
Communication is everything.
Stay Focused
Too many opinions are confusing.
Go For It!
Find what you like and make it yours.
Is Idaho right for you?
Few places offer the diversity of housing opportunities that one can find in Idaho. The location of the Boise metro area offers four distinct seasons. In the summer, temperatures range from the upper nineties to the lower sixties. Summers are dry and especially delightful in the evenings into the late mornings.
Depending on where you're from, winters are moderately cold with little or occasional snow. Spring and Fall are mild and the favorite times of year to go exploring much of Idaho, especially if mountain biking, camping, and fishing are at the top of your recreational interests.
With an average of 220 sunny days, low humidity and just 12.1 inches of precipitation, the climate here is ideal for spending time outside. Weather in the Treasure Valley is influenced by Pacific weather patterns, which helps moderate temperature extremes.
What is the next step in buying a home?
Whether you are looking to move across town or relocating to Idaho from around the world, the Build Idaho real estate team is here to help you find your ideal home. We understand that finding the right home, building lot, or land with acreage is not easy. Having a knowledgeable, local real estate agent who has helped clients just like you can provide peace of mind as well as assurance that someone is protecting your best interests.
Our real estate team is dedicated to putting our experience and local knowledge to work for you in all phases of your real estate transaction: from finding the right property to negotiating the best deal, to closing. Build Idaho is one of the most respected resources and real estate teams for buying and selling in Idaho. We deliver the very best real estate services because you deserve no less.
We are also experienced in new construction. If you are interested in building a custom house or finding a brand new home to move into quickly, we can help. We are familiar with many of the 300+ new communities We also have several builders that we can recommend so you buy a quality home and have a great new construction experience.
We offer our clients an array of home-buyer tools to provide you with the highest level of real estate services. Build Idaho has over a hundred Google Reviews to prove it!