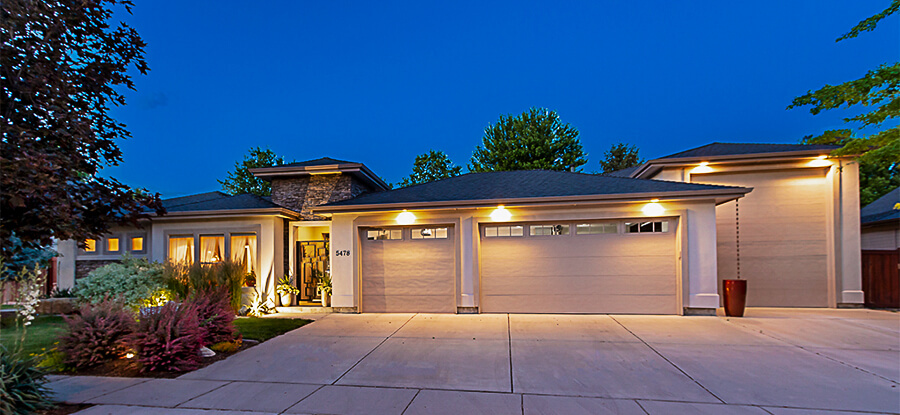 How do you price a home to sell?
Check out Build Idaho's Seller FAQ. This may not answer all your questions but these are the most common ones we get.
Pricing your home is both an art and a science.
Achieving the optimal price is the result of both objective research into comparable properties and a gut feeling about your property and the current market.
What is the right price?
As a seller, you want to make the most money on your home while also selling it in a reasonable time. Your agent has the marketing plan to make sure your home is priced appropriately to make you money and maximize buyer interest.
The simple fact is, price is the number one factor that most homebuyers use to determine which homes they want to view. And it's important to remember that, although the price is set by you, the value of the home is determined by the buyer. Try to avoid allowing your enthusiasm to impact your better judgment - overpricing is a common mistake that can cost you in the end.
Which factors help improve your home's resale value?
Your agent will look at these 12 factors and more when it comes to finding out how much your home is worth. Once your home's value is determined, your agent will set the listing price based on the market and how much similar properties have sold for.
How much money will you save attempting For Sale By Owner (FSBO)?
In this day and age, hiring a real estate agent can actually earn you an average of $65,000 more on the sale and will sell faster. By earning that much, you can pay your agent's commission and still earn more money than trying FSBO.
What is the Importance of Proper Pricing?
The optimal price will let a home sell faster with less inconvenience, exposure to more buyers, increases Realtors®' response, generate more inquiries, and attract more offers thereby creating the highest offer scenario which means more money to the seller, and avoids being "shopworn." What really matters is how your home stacks up against the others currently offered for sale and recently sold in your neighborhood. Buyers will be comparing.
What is the timeline for selling my home? How long does it take to sell your home in Idaho?
These closely related questions come up quite often. We can review 'Days on Market' and how well your home is priced to comparable homes on the market. These are good indicators but ultimately the market will determine the price and days on market.
Why do Sellers Over Price a home?
Many times sellers don't understand the market. Also,
Over-improvement on the house,
Need the cash
Purchasing in a higher-priced area
The original purchase price was too high
Lack of factual data
Bargaining room
Moving isn't necessary so there is a lack of real motivation to sell
Assessed value
Emotional attachment
Influence from family and neighbors on what the price should be.
What are the Dangers of Overpricing?
Most of the activity on your home will occur in the first few weeks. Pricing a home properly and then creating immediate urgency in the minds of agents and buyers is critical.
Buyers who have seen most available homes in their price range are waiting for the "right house" to come on the market. That's why if a house is priced right, it will sell quickly. The buyers are there waiting for it.
Don't start with a high price and the assumption that you can reduce it later. By the time you decide to lower the price, it may be too late, as interest will have already waned.
A major cause for concern is appraisal problems; overpricing can lead to loan rejections and lost time.
Even if your home is nicer than other homes in the same area, your house won't be picked for viewing if you set the price too high.
Buyers and agents become aware of the long exposure period and often are hesitant to make an offer because they fear something is wrong with the property.
Attracting the wrong buyers.
Fewer potentially qualified buyers will respond.
You might help sell similar homes that are priced low.
You could lose money as a result of making extra mortgage payments while incurring taxes, insurance and unplanned maintenance costs.
The Role of a Real Estate Agent in Pricing
Provide you with a comparative market analysis (CMA), a comparison of the prices of recently sold homes that are similar in terms of location, style, and amenities. A CMA is performed by comparing previously sold homes in the area, and currently active homes to know your competition.
There is no "exact price" for real estate
We don't tell you what we think your home is "worth".
The market determines value…together we determine the price.
You determine the price based on the factors you control:
- Marketing time
- Financing alternatives provided
- Condition
- Exposure method
Keep in touch with market trends and keep up to date with market activity of comparable homes.
Estimate your net proceeds.
Help to determine offering incentives.
An agent has NO control over the market, only the marketing plan. Never select an agent based on price.
As a seller, what do I need to disclose to buyers about my property's condition?
Sellers must follow all federal, state, and local disclosure laws when selling their home. The most important federal regulation is the lead-based paint disclosure. If the home was built prior to 1978, you must disclose the status of lead-based paint in the home, along with an EPA pamphlet. This applies to if the home previously had lead-based paint and has had it professionally removed.
State, county, and local laws vary, but the most common disclosures are
Pest infestations
Mold
Water leaks
Smoke/water/fire damage
Structural issues
Death in the home
Environmental hazards
Check with the city you are buying/selling in to get a list of required disclosures.
Idaho has the following mandatory disclosures
As spelled out in Idaho Code section 55-2508, sellers must fill out a property condition disclosure form. This standard form allows sellers to be as transparent as possible with what is included in the sale, how it will be transferred, and if there are any barriers to transfer.
Here are the 9 sections in the disclosure, simplified from legal-ese.
Is the property located in a city or adjacent to a city such that it could be annexed into that city?
If the property is not within city limits, does it receive services from the city, making it legally able to be annexed?
Does the property have written consent to annex that is recorded by the county recorder?
List which appliances are included in the sale and are in good working order. (The list is on the form and in the law)
Specify problems with the following systems in the house

Basement water
Foundation
Roof condition and age
Well
Septic
Plumbing
Drainage
Electrical
Heating

Describe any problems that may affect the ability to clear the title check
Hazardous materials & pest infestation disclosures
Disclosure of additions or alterations without a permit
Disclosure of any other problems of any type that weren't covered by the above 8 sections
What happens if the property disclosures are inaccurate?
If problems with the home are not disclosed by the seller in writing and the problems are discovered by the buyers after the sale, the seller could be liable for the damages. The Idaho law statute says:
"No transfer, subject to this chapter, shall be invalidated solely because of the failure of any person to comply with any provision of this chapter. However, any person who willfully or negligently violates or fails to perform any duties prescribed by any provision of this chapter shall be liable in the [dollar] amount of actual damages suffered by the transferee."
If a problem was fixed, should it be disclosed?
YES. Keeping accurate records as far back as possible helps transparency and helps avoid legal troubles—before and after the sale. For example, if you (the seller) had an issue with mold and had it remediated, this must be disclosed. This way, the buyers would know about the home's history and who fixed the problem. If the mold comes back after the sale, the buyers (now owners) can call the mold company to fix the problem again. This is the same reason why there needs to be a lead-based paint disclosure, even if the paint was removed, as stated above.
What's the real current value of your home?
Thinking about selling? Find your home or condo's value in today's market, for free.