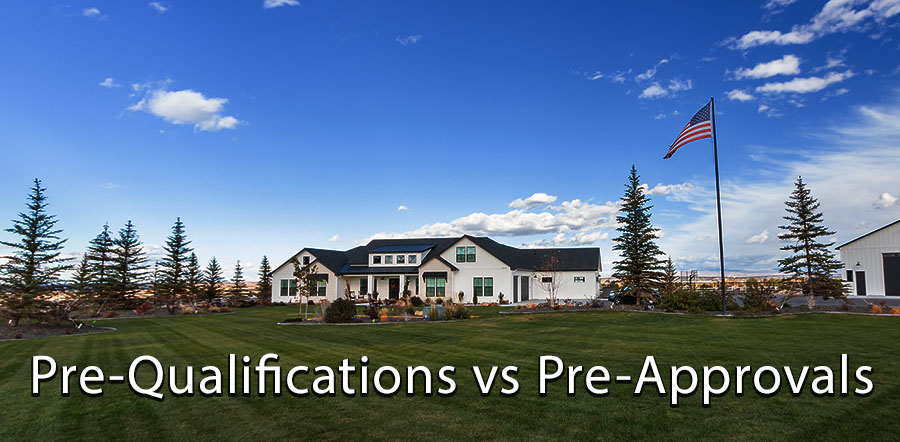 Pre-Qualifications vs Pre-Approvals. What's the difference?
Buying a house is one of the biggest milestones in a person's life. As such, there are a lot of steps to follow in the home-buying process. One of the first steps is to secure a loan from a mortgage lender. This involves two steps: pre-qualifications and pre-approvals. This article will break down the differences between the two, as well as the steps to follow to get them and start shopping for a home!
What is a Pre-Qualification
A pre-qualification is the first step in the home-buying process. It serves as a rough estimate by your lender of how much you can afford to spend on a house. A pre-qualification is a great tool for your personal budget review. This can be done in a few minutes with your lender. All you need to bring is a list of debts, assets, and income. With this information, your lender will determine if you qualify to take out a loan based on your debt-to-income ratio.
Two Important Takeaways
Getting pre-qualified does not mean you are ready to buy a house. This step serves as an estimate for how much you could potentially borrow from the bank.
This step is not required to get pre-approved for a loan from your lender. However, lenders often grant higher loan amounts to those who are pre-qualified first.
What is a Pre-Approval?
Pre-approval is determining how much money you can actually borrow from the bank. Unlike pre-qualification, pre-approval takes a deep dive into your finances and financial history to determine your risk of defaulting on your loan. It is only after you get pre-approved that you can start shopping for a house and be able to make a compelling offer. After all, why go shopping for something if you don't know how much you can spend? Don't go shopping for a Mercedes if you can only afford a Honda. In addition, sellers are much more likely to accept offers from buyers who are pre-approved for a loan because it proves that their offer is more genuine and the transaction process will be smoother.
What do I need to get Pre-Approved?
You must bring proof of income and employment. This includes:
Pay stubs from the last 30-60 days
W-2 forms from the last 2 years
Federal tax returns
If you are retired, include a benefit rewards letter and the last 2 years of 1099 forms and tax returns
You must also provide proof of assets, which includes:
Bank statements of all accounts with the name of the institution and account numbers. This includes checking, savings, Roth IRA, 401(k), and stocks.
If you are receiving help with paying for a house, include a gift letter with the signature of the gifter and the date of the gift.
Bring proof of identification:
State-issued ID
Social Security card
Don't worry about printing out or bringing your credit score. The lender will run a credit check for you. Be sure to check your credit score before your appointment to make sure of the number. If you want or need to raise your credit score, take steps to improve it before scheduling an appointment with a lender.
Do Pre-Approvals Expire?
Yes. They typically expire after 60-90 days but check with your lender for specific details. They automatically expire if there is a severe impact on your financial situation. This includes anything that will negatively affect your ability to pay the pre-approved loan amount:
Lost job
A financial hazard such as identity theft or fraud
New substantial debt
Are you ready to start your home-buying journey? Contact your lender to begin the pre-approval process. They will walk you through every step of the pre-qualification, pre-approval, and approval process with impeccable knowledge and communication. If you are unsure where to go for a lender, ask your real estate agent. They can point you in the right direction.
Already pre-approved? Congratulations! Click here to start your home-buying journey in Boise and the Treasure Valley.
Mortgage Pre-Approval
One of the first steps in the home-buying process is to consult with a mortgage lender about your financing options.
When you know what you can afford, you can focus your home search and make your move more quickly when you find the property you want. See also Mortgage Calculator
Fill out the form below to begin the process.
Top Reasons to get Pre-Approved before looking at houses.
The one thing you should absolutely do before you look at houses is getting pre-approved for a home loan. Shopping for a home without a pre-approval is like shopping at a high-end store without understanding how much money is in your bank account
1. Sellers want buyers that are pre-approved
Nobody wants to waste time, including the sellers. They do not want to spend time with buyers who have not made the proper arrangements to be able to buy their homes. They want to know that you are capable and have taken the time to arrange financing to buy a home. Without a pre-approval in hand, they are taking your word for it. How do they know that you can afford the home? The pre-approval letter from your lender provides proof that you can purchase the home. Read more about the mortgage pre-approval steps here.
2. You can stay within your home-buying budget
Why waste time shopping for a home you cannot afford? It is also much more enjoyable to know what your home purchasing parameters are. This will inevitably help prevent any type of letdown when you realize that you can't afford the home you thought you fell in love with. Also, you'll find a home faster by not looking at things you cannot purchase.
3. You'll know if you have any barriers to loan approval
You won't know until you apply if there are problems for you to solve prior to getting the loan closed. When the lender pulls your credit, they may notice issues that will prevent you from securing approval. You can use this time to find out what's wrong with your credit and see what you need to do to fix it. Sometimes it's not your credit, but other things like your debt-to-income ratio, lack of assets, or inconsistent employment that prevents you from getting approved. By getting pre-approved, you can work on fixing those issues immediately rather than when it is too late.
4. It can give you an edge in a bidding war
In a seller's market, you could wind up in a bidding war. When there is high demand for a specific home, buyers may try to outbid one another. Having the pre-approval can:
Help you know your budget constraints when bidding on a home
Help the seller take your bid seriously
If you don't have that pre-approval letter, you may find a seller that takes an offer lower than yours because that buyer has a pre-approval letter. It holds a lot of weight in the eyes of the agent when presenting your offer to the seller. Getting a pre-approval letter before you shop for a home is one of the best decisions you can make. Pre-approvals also help you get your bearings so you'll know what you can afford and what conditions you have to satisfy to get the home loan. Sellers will have more respect for your offer and you may stand a better chance of buying the home you really want!